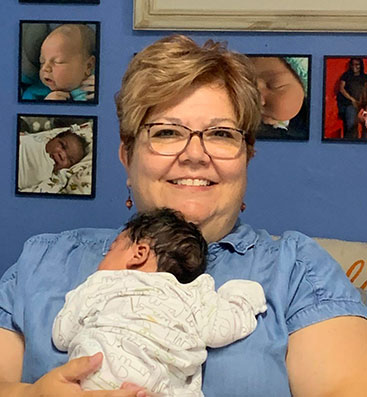 Jeannette comes to us as an adoptive mom of 2 special needs girls (now teens) in addition to her biological children. She continues to foster medically fragile babies and has 21 yrs of experience as a medical foster parent. Her medical background and all that she has learned along the way has allowed her to assist foster,adoptive,and biological families in their struggles. Building relationships with biological and adoptive families of the children in her home has been a passion Jeannette excels at. While she is the proud grandmother of 7 beautiful grandchildren, her foster babies remain her family too. She is lovingly referred to as Oma by all of the children that come through her home.
Jeannette has made long lasting connections in child welfare and in pediatric medicine that have been beneficial to assisting some of our adoptive families and her love of nurturing children's growth and development makes her an invaluable asset to our team.
Married to Todd 34yrs. They work together as a team and refer to themselves as "the greatest tag team partners"! Jeannette is always up to learning new things & and remains positive and passionate about helping others.